APR Cast Downpipe w/Cat (Jetta,Beetle,Passat)
Product Details
Description
APR is pleased to present the ultimate Cast Downpipe Exhaust System!
Upgrading the restrictive factory downpipe with the APR Cast Downpipe Exhaust System is a great way to increase performance and add a sophisticated growl to the exhaust note. Ideal performance is achieved through expelling exhaust gasses at maximum velocity through APR's proprietary, low-turbulence, investment cast downpipe. Designed and assembled in-house, the system utilizes only premium materials and world-class manufacturing techniques to deliver unmatched quality and reliability.
The factory downpipe system consists of smaller, 63mm piping with varying bends and multiple restrictive high-cell-count catalysts, all of which contribute to a less than ideal flow path and hindered performance. APR's engineers took a multi-step approach to maximizing flow, reducing under hood temperature, and eliminating unnecessary restrictions all in a unique package only APR can deliver.
NOTICE: THIS MOTORSPORT/RACING PRODUCT IS NOT DESIGNED TO MEET ANY FEDERAL EMISSIONS STANDARDS IN THE USA AND IS NOT FOR STREET OR HIGHWAY USE. THIS PRODUCT IS NOT C.A.R.B. COMPLIANT AND IS NOT FOR SALE OR USE IN CALIFORNIA, USA. APR MAKES NO CLAIMS THIS PRODUCT COMPLIES WITH ANY EMISSION LAWS IN ANY JURISDICTION. IT IS ENTIERLY THE RESPONSIBILITY OF THE PURCHASER TO INFORM THEMSELVES OF ANY LAWS OR REGULATIONS WHICH MAY PROHIBIT USE OF THIS PRODUCT.
Manufacturing Process:
Specs:
Cast Downpipe Inlet and Outlet
The exhaust system features a strong, investment cast, T304L inlet and outlet designed to maximized flow and minimize turbulence. By casting the inlet, APR's engineers were able to create a smooth and high-flow exhaust path that maximized flow through swept blends and shapes that are otherwise not possible through conventional fabrication techniques. The inlet perfectly matches the factory turbocharger's 77mm outlet and gradually necks down over a long distance to further enhance performance. The mounting flange and bracket are integrated into the casting, and TIG welding at the flex section ensures a clean inner surface eliminating turbulence, vortices and eddies to the highest degree.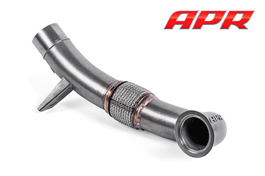 With a nominal wall thickness of 2.55mm the downpipe is strong and produces a refined exhaust note compared to thin wall tubing systems. The cast sections undergo a tumbling process to smooth and de-burr any imperfections inside the pipe, while simultaneously enhancing the exterior finish. Lastly, all necessary surfaces are CNC machined for an accurate fit.
Bracket:
Designed to stand the test of time, the bracket is CNC machined from 8mm-thick billet T304L stainless steel and the hanger feet are threaded into place, eliminating the need for welds. Weight is removed from the bracket, wherever possible, while not hindering its structural integrity. The bracket attaches to the cast downpipe's integrated mounting bracket, and CNC machined spacers enable compatibility across multiple vehicles.
Piping:
The APR Downpipe Exhaust System features premium grade T304L stainless steel for its excellent appearance, strength and corrosion resistance properties. The pipe is rolled to the 76mm European standard diameter with a 1.5mm wall thickness and a seemingly non-existent weld seam.
Pipe is cut to length in-house via APR's CNC-controlled bandsaw to an accuracy of .25mm, ensuring a precise fit. Each pipe is de-burred, and the exterior finish is brushed to give the exhaust piping a clean and attractive appearance worthy of the APR name. APR's fabrication team uses argon back-purging during the welding process, leaving a clean and smooth interior surface, and TIG welding for strength and appearance. Lastly, no swedging or slip-fitting is necessary due to APR's OEM-style clamp design, leaving smooth and less turbulent connection points.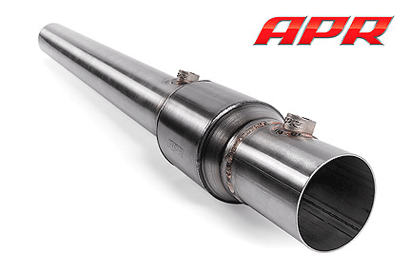 Catalytic Converter:
APR's engineers specified a high-quality and high-flow GESI metal 300-cell catalyst ideal for forced induction application. During dyno testing, the 100mm x 100mm design showed no measurable loss in power, thanks to the catalyst's specifications.
Internally the catalytic converter features a proprietary blend of precious metals and loading technology that helps to reduce emissions and smell common on cat-less setups. With performance in mind, the catalyst is placed far away from the turbo outlet to reduce turbulence in the downpipe and to help reduce under-hood temperature. The low-profile catalyst features a fully captured substrate brick, which is furnace braised to the outer mantle and physically captured by the diffuser cones preventing rattling, rotation, and damage to the substrate. Subsequently, a byproduct of running the catalyst is a reduction in noise, making the system as a whole more pleasing to the ear.
Reducer:
A simple and removable, T304L stainless steel reducer, featuring a smooth transition, is included, making the APR Cast Downpipe Exhaust System directly compatible with the OEM catback exhaust system.
Dyno Results:
Reported wheel figures measured on APR's in house Dynapack Dynamometer with a 2013.5 Jetta GLI 6-speed manual, using SAEJ1349 correction and an average of multiple runs. Crank figures estimated based on the measured wheel figures. Results will vary depending upon environmental conditions, vehicle, transmission, vehicle health, operating conditions, temperatures, fuel grade, dyno type, dyno setup, and other modifications.
Downpipe Includes:
Downpipe
Bracket
Clamps
02 Bungs
Catalytic Converter
Reducer
Gasket
Optional Universal 76mm Catback Fit Kit
APR's cast downpipe exhaust system mates perfectly to the factory catback exhaust system with the included reducer. For compatibility with most 76mm catback exhaust systems, a 76mm link pipe must be installed between the downpipe and catback. APR's universal fit kit includes a 300mm link pipe and clamp that can be cut to length for compatibility across a wide range of systems.
Stage II ECU Upgrade Information
For the best results, APR recommends installing the Stage II ECU upgrade. This upgrade requires purchase of an APR Stage I ECU Upgrade, and is included for free to the original owner and original vehicle with the purchase of an APR Cast Downpipe Exhaust System!
Emissions Disclaimer
This product is sold for off-road use only.
By purchasing this product, you understand this product is sold for competition use and is not legal for use in highway or street vehicles.
Product Features
APR Stage II ECU Upgrade price waived.
Designed and assembled in-house.
T304L stainless steel construction.
Argon back-purged TIG welding.
Investment cast downpipe.
77mm inlet with integrated flange.
Low profile, sealed/corrugated flex section.
76mm outlet with integrated bracket.
8mm billet bracket.
76mm brushed and de-burred piping.
Non-swedged/slip-fit/flanged piping.
Investment cast o2 bungs with billet plugs.
300 cell, 100mm x 100mm GESI catalyst.
OEM-style slip-on clamps.
Reducer for OEM catback compatibility.
APR Stage II ECU Upgrade price waived.
Limited lifetime warranty.
warranty
Limited lifetime warranty.
Fitment Guide
Does this fit my vehicle?
Fitment Guide
Fitment Guide
Start Year
End Year
Make
Model
Submodel
Cyl
Lit
Fuel
FuelDel
ASP
EngDesg
Notes
2013
2014
Volkswagen
Beetle
R-Line
Turbo
GSR
L4
2.0
GAS
FI
T
CPPA
CPLA
2014
2014
Volkswagen
Beetle
1.8T
L4
1.8
Gas
FI
T
CPKA
CPRA
2013
2017
VOLKSWAGEN
JETTA
GLI
GLI SE
GLI SEL
L4
2.0
GAS
FI
T
CPLA
CPPA
Gen 3 engines only.
2014
2017
VOLKSWAGEN
JETTA
SE
SEL
SEL PREMIUM
SPORT
L4
1.8
GAS
FI
T

ALL

2014
2017
VOLKSWAGEN
PASSAT
R-LINE
S
SE
SEL
SEL PREMIUM
SPORT
WOLFSBURG EDITION
L4
1.8
GAS
FI
T

ALL