Unitronic Stage 1 ECU Tune (3.0TFSI 310HP)
Product Details
Description
Performance Software Precisely Engineered for a completely stock car. May not be available for all ECU IDs.
Gas type
91 Octane / 95 Ron gas
Installation
Flashed directly through the (OBDII) Diagnostic port of your vehicle (10-15 minutes). (In some rare cases it may require a little more time.)
Uniconnect+
This vehicle has added support through UniCONNECT+ which allows you to program your own vehicle right in your own garage. Learn More
Performance Gains: +80HP / +25TQ
Dyno Graph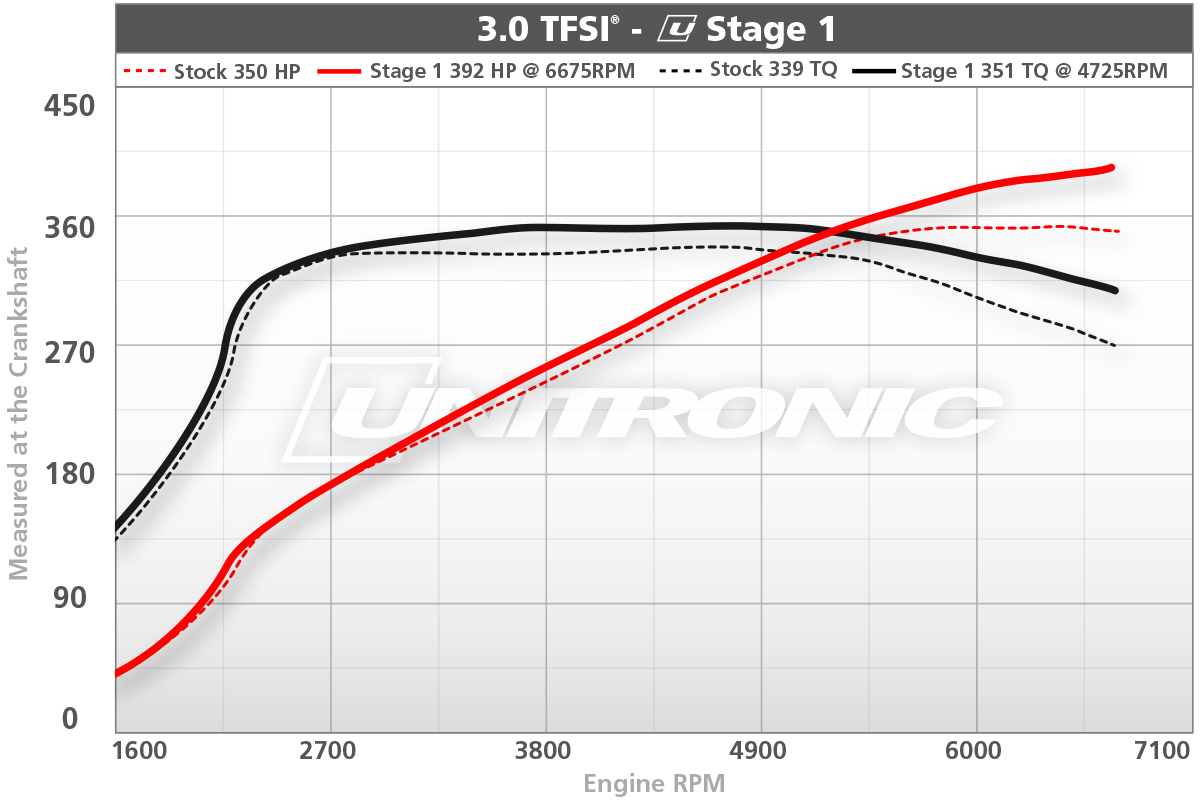 Product Features
Engineered with Strict Industry Standards
Extensively Tested Under Various Driving Conditions
Factory Safety Limiters Retained
Optimized Responsiveness and Drivability
Optimized Smoothness and Driving Comfort
Power Delivery Perfectly Optimized Throughout the Power Band
Improved Fuel Efficiency
Speed Governor Increased to 300km/h
warranty
15-Day Satisfaction Guarantee
Unitronic stands behind its Performance Software & Hardware to deliver its Clients with the performance, quality, and reliability the brand has been established on. Unitronic offers a hassle free, no questions asked 15-day Satisfaction Guarantee on its Performance Software.
Unitronic's goal is to enhance your vehicle's performance, while ensuring the advertised power figures are met. Their risk-free guarantee exists to bring you peace of mind, so rest assured that Unitronic will go the extra mile for you, every time. To take advantage of our 15-Day Satisfaction Guarantee, simply contact us at [email protected]
Fitment Guide
Does this fit my vehicle?
Fitment Guide
Fitment Guide
Start Year
End Year
Make
Model
Submodel
Cyl
Lit
Fuel
FuelDel
ASP
EngDesg
Notes
2012
2015
AUDI
A6 QUATTRO
PREMIUM
PREMIUM PLUS
PRESTIGE
V6
3.0
GAS
FI
S
CGXB
CTUA
2012
2015
AUDI
A7 QUATTRO
PREMIUM
PREMIUM PLUS
PRESTIGE
V6
3.0
GAS
FI
S
CGXB
CTUA
Customer Pictures
No images yet