XForce Smartbox Bluetooth Exhaust Controller for Varex Mufflers
Product Details
Description
XForce Performance Exhaust invented the acclaimed VAREX Exhaust System - it has been the most popular choice amongst enthusiasts seeking flexible control of their sound level. The VAREX exhaust system allows users to adjust the exhaust sound from stock-car-quiet to sports-car-growl with a click of a key fob button. We love our VAREX exhaust and prefer to keep it in 'open mode'. However, there are always moments when the high-volume exhaust is less desirable.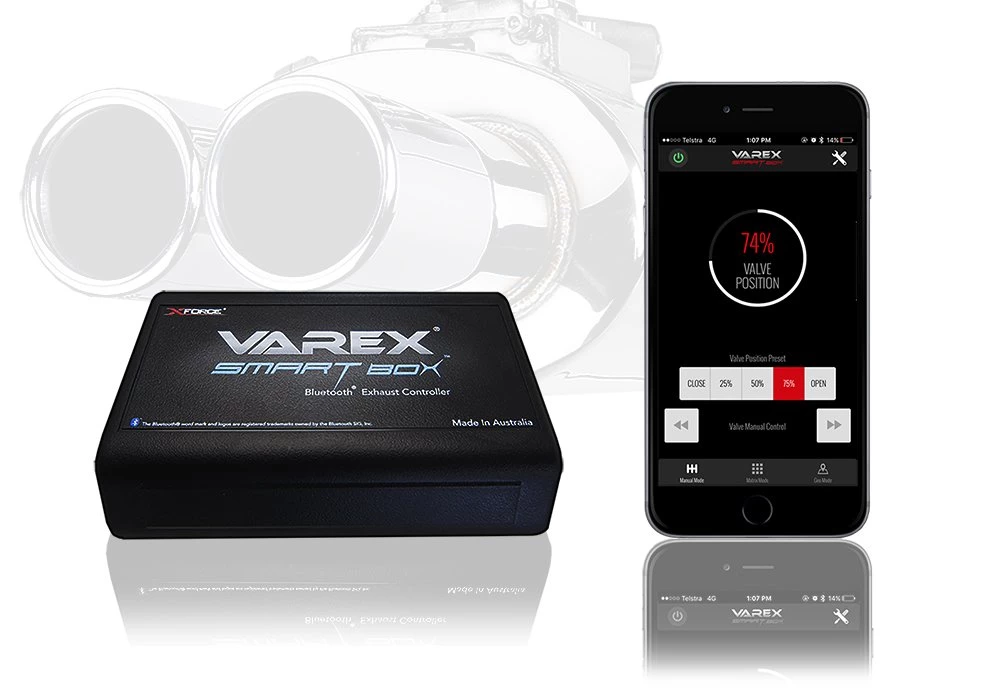 What is the Smart Box?
Varex Smart Box is a control device with patent-pending technology that lets the user manually and automatically adjust the exhaust sound level of the Varex exhaust. Users can make changes to the settings via an elegantly designed Smartphone App. The connections between the Smart Boxes and smartphones are via the latest Bluetooth® technology, which provides an intuitive user experience.
Smart Box provides the following functions:
Manual Mode:

Precise manual adjustment of VAREX exhaust valve positions;
Custom pre-set of VAREX exhaust valve position
MATRIX MODE (ONLY WORKS WITH VEHICLES EQUIPPED WITH OBD-II):
Automatic control of VAREX exhaust valve positions based on real-time information of RPM, throttle, and speed.
GEO MODE:
Automatic control of VAREX exhaust valve positions based on the vehicle's real-time location.
Product Features
SmartBox Bluetooth Exhaust Controller
Programmable via iOS and Android App
Precise Manual Control (down to 1% Valve position accuracy)
Automatically Controlled by RPM, Throttle Position, and Vehicle Speed
"One-touch exhaust drone delete" Function
Automatically Triggered by Geolocation
installation
warranty
Stainless Steel Exhaust Systems: 5 Years
Universal Stainless Steel Mufflers: 2 Years
Electronic Components: 12 Months
Accessories: 12 Months
More Information Here: https://xforceusa.com/warranty-statement/
Fitment Guide
Does this fit my vehicle?
Fitment Guide
Fitment Guide
| | | | | | | | | | | | |
| --- | --- | --- | --- | --- | --- | --- | --- | --- | --- | --- | --- |
| ALL | ALL | Audi | ALL | ALL | ALL | ALL | ALL | ALL | ALL | ALL | Only To Be Used With Varex Exhaust Systems |
| ALL | ALL | Volkswagen | ALL | ALL | ALL | ALL | ALL | ALL | ALL | ALL | Only To Be Used With Varex Exhaust Systems |
Customer Pictures
No images yet