APR Cast Inlet Race Downpipe w/Cat (15+ A3 Quattro, S3, Golf R, Alltrack)
Product Details
Description
APR is pleased to present the ultimate Cast Inlet Downpipe Exhaust System for AWD MQB vehicles!
The APR Cast Inlet Downpipe Exhaust System replaces the restrictive factory downpipe with a larger, 76mm stainless steel mandrel-bent system, featuring a port-matched cast inlet, high-flow catalyst and various other features. Expect better throttle response, more horsepower and an intoxicating exhaust note, while remaining civilized during normal daily driving. It's one of the best performance upgrade for 1.8T and 2.0T engines following APR's ECU Upgrades and it's designed and assembled in-house, using premium materials and world-class manufacturing techniques few can match.
NOTICE: THIS MOTORSPORT/RACING PRODUCT IS NOT DESIGNED TO MEET ANY FEDERAL EMISSIONS STANDARDS IN THE USA AND IS NOT FOR STREET OR HIGHWAY USE. THIS PRODUCT IS NOT C.A.R.B. COMPLIANT AND IS NOT FOR SALE OR USE IN CALIFORNIA, USA. APR MAKES NO CLAIMS THIS PRODUCT COMPLIES WITH ANY EMISSION LAWS IN ANY JURISDICTION. IT IS ENTIERLY THE RESPONSIBILITY OF THE PURCHASER TO INFORM THEMSELVES OF ANY LAWS OR REGULATIONS WHICH MAY PROHIBIT USE OF THIS PRODUCT.
Dyno Numbers
Specs:
More power, torque & less lag
+24-36 HP & +29-41 FT-LBS over stage 1!
Larger, 76mm system
Say goodbye to the restrictive 65mm system!
Cast Inlet with port-matched v-band flange
Unrestrictive flow for maximum performance!
Premium T304L stainless steel construction
Only the best to resist corrosion and stand the test of time!
Premium argon back-purged TIG welding
Clean, strong and attractive welds, inside and out!
Strong GESI high-flow catalytic converter
Reduced emissions, smell and noise without the power hit!
OEM-style slip-on clamps
Slip on and go with no pipe deformation!
OEM-style internally-corrugated flex section
Flex without the common failures and restrictions!
In-house design, assembly and quality control
Engineered from concept to reality to be the best!
Plug and play
Bolt on and go with the included instructions!
APR Stage II ECU Upgrade price waived
Upgrade from APR Stage I to APR Stage II for free!
Limited lifetime warranty
The best system with the best warranty!
Downpipe with Cast Inlet
The APR downpipe features an investment-cast inlet, with a port matched v-band flange, creating an ideal flow path for exhaust gasses exiting the turbocharger. By matching the already oversized turbo outlet, the downpipe is able to maintain exhaust gas velocity, improving performance with minimal variances in cross-sectional area due to the strategic use of cast parts. Furthermore, the cast inlet allows for excellent packaging, satisfying other design criteria while maintaining a larger and constant cross-sectional area compared to mandrel bent tubing built to similar specifications. The end results it simple: Smooth exhaust flow and maximum performance!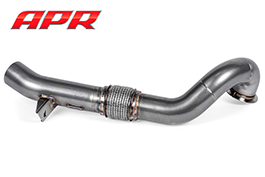 The downpipe's piping is upgraded to attractively-brushed, straight-through and mandrel-bent 76mm tubing, dwarfing the small 65mm factory system. Furthermore, components visible from the engine bay are tumbled for a more attractive finish. A CNC laser cut bracket provides a strong and accurately positioned mounting point to take the weight of the downpipe off the turbocharger, and the internally-corrugated flex section gives the downpipe the flex it needs under engine movement. Finally, the downpipe uses T304L stainless steel components that are TIG welded together with argon back-purging, ensuring the system not only looks great on the inside and out, but stands the test of time.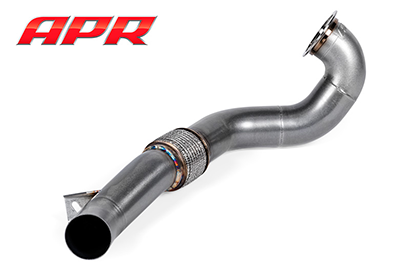 Midpipe
The factory midpipe uses awkwardly-kinked, 65mm tubing with some systems featuring an additional midpipe catalytic converter. The APR midpipe eliminates the front resonator, giving the exhaust a slightly more aggressive note, while eliminating performance robbing restrictions. Finally, the midpipe uses attractively-brushed mandrel-bent 76mm T304L stainless steel tubing.
Flex Section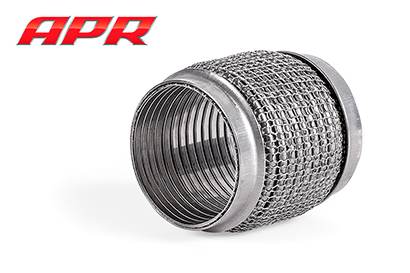 The APR midpipe use an OEM-style flex section that is fully sealed with a corrugated inner lining to improve flow and reliability. The low profile design and minimal use of bradding material eliminates clearance issues common with other designs that can billow, rub, rattle and fray over time. The flex section is constructed from T304L stainless steel and is argon back-purged when TIG welded to the downpipe.
Catalytic Converter:
APR's engineers specified a high-quality and high-flow GESI metal 300-cell catalyst ideal for forced induction application. During dyno testing, the 100mm x 100mm design showed no measurable loss in power thanks to the catalyst's design.
Internally the catalytic converter feature a proprietary wash coat that helps to reduce emissions and smell common on cat-less setups. The low-profile catalyst features a fully captured substrate brick, which is furnace braised to the outer mantle and physically captured by the diffuser cones preventing rattling, rotation, and damage to the substrate. Subsequently, a byproduct of running the catalyst is a reduction in noise, making the system as a whole more pleasing to the ear.
Brackets
Attached to the downpipe is a high quality mounting bracket. The bracket is constructed from T304L stainless steel and is CNC-machined and CNC-bent to exact tolerances. The bracket is TIG welded to the piping and argon back-purged.
Designed to stand the test of time, the adjustable bracket is CNC machined from 8mm-thick billet T304L stainless steel and the hanger feet are threaded into place, eliminating the need for welds. Weight is removed from the bracket, wherever possible, while not hindering its structural integrity. The bracket attaches to the downpipe's integrated mounting bracket with the included hardware.
Reducer:
A simple and removable, T304L stainless steel reducer, featuring a smooth transition, is included, making the APR Cast Downpipe Exhaust System directly compatible with the OEM catback exhaust system.
Downpipe Includes:
Downpipe
Midpipe
Brackets
Clamps
02 Bungs
Catalytic Converter
Reducer
O2 Sensor Extension Harness
Stage II ECU Upgrade Information
For the best results, APR recommends installing the Stage II ECU Upgrade. This upgrade requires purchase of an APR Stage I ECU Upgrade, and is included for free to the original owner and original vehicle with the purchase of an APR Cast Downpipe Exhaust System!
Emissions Disclaimer
This product is sold for off-road use only.
By purchasing this product, you understand this product is sold for competition use and is not legal for use in highway or street vehicles.
Product Features
More power, torque & less lag
Larger, 76mm system
Cast Inlet with port-matched v-band flange
Premium T304L stainless steel construction
Premium argon back-purged TIG welding
Strong GESI high-flow catalytic converter
OEM-style slip-on clamps
OEM-style internally-corrugated flex section
In-house design, assembly and quality control
Plug and play
APR Stage II ECU Upgrade price waived
Limited lifetime warranty
warranty
Limited lifetime warranty.
Fitment Guide
Does this fit my vehicle?
Fitment Guide
Fitment Guide
Start Year
End Year
Make
Model
Submodel
Cyl
Lit
Fuel
FuelDel
ASP
EngDesg
Notes
2015
2017
AUDI
A3 QUATTRO
CABRIOLET PREMIUM
CABRIOLET PREMIUM PLUS
CABRIOLET PRESTIGE
PREMIUM
PREMIUM PLUS
PRESTIGE
L4
2.0
GAS
FI
T

ALL

2015
2017
AUDI
S3
PREMIUM PLUS
PRESTIGE
L4
2.0
GAS
FI
T

ALL

2015
2017
VOLKSWAGEN
GOLF
R
L4
2.0
GAS
FI
T

ALL

2017
2017
VOLKSWAGEN
GOLF ALLTRACK
S
SE
SEL
L4
1.8
GAS
FI
T

ALL

2017
2017
VOLKSWAGEN
GOLF SPORTWAGEN
S 4MOTION
L4
1.8
GAS
FI
T

ALL
Customer Pictures
No images yet
Customer Reviews
Got this as I wanted to get APR tuned. Its a nice downpipe but think it is overpriced for what it is